Places see in indore
Lalbagh Palace , Rajwada, Krishnapura Chhatries, Chidia Ghar (Zoo) , Indore Museum,
Kanch Mandir, Khajrana ,Meghdoot Upawan , Gomatgiri ,Nehru Park,Bada Ganapati, Gandhi Hall, Annapurna Mandir, Bijasen Tekri,Geeta Bhawan, Gopal mandir, Rajasthani villages, Deoguradia ,
Nearby Attractions :
Ujjain | Mandu | Dewas | Omkareshwar | Maheshwar | Patal Pani |
-------------------------------------------------------------------------------------
Lalbagh Palace:
The Lalbagh Palace of the Holkars on the banks of the Khan river is one of the grandest monuments the Holkar dynasty left to Indore city. A reflection of their taste, grandeur and life style, its construction began in 1886 under Tukoji Rao Holkar II, and was carried out in three phases, the final phase completed in 1921 under Tukoji Rao Holkar III. It is a blend of the baroque and renaissance styles, and in its days was one of the most elegant residences in India. It is being developed by the Government of Madhya Pradesh as a cultural centre. The main attraction are the splendidly proportioned and furnished rooms, with frescoed ceilings and guilded ornamental mouldings. The architecture and decoration of this palace, inhabited by the Holkars till 1978 reflect the highly westernized aesthetic sensibility of the later Holkars. Tukojirao III was the last incumbent of this magnificent palace. The whole complex has a total area of 28 acres and at one time had one of the best rose gardens of the country.
Though simple to look from outside, the magnificent interior takes one into a dreamland of past glory. Lavishly decorated in the style of Varsailles Palace, its italian marble columns, grand chandeliers, rich persian carpets, flying nymphs on the ceiling, Belgium stained glass windows, Greek mythological reliefs, Italian style wall paintings, stuffed leopards and tigers are breathtaking. The ballroom has wooden floor on springs for extra bounce. The kitchen was built on the opposite bank of the river and was connected to the palace by a well lighted underground tunnel. The imposing gates of the palace are unique in Asia. A replica of the gates of Buckingham palace (London), about twice their size , were moulded in cast iron and shipped from England. They carry the Holkar state emblem which means "He who tries will succeed".
-------------------------------------------------------------------------------------
Kanch Mandir:
The Kanch Mandir (Glass Temple) which is a jain mandir (temple) is a marvel in glass. This temple was built by the "Cotton King" Sir Hukamchand Seth in the early 20th century. The walls, ceiling, floor, pillars, doors are entirely inlaid with glass. The mirrorwork reflects minute detailing. There are paintings done in coloured glass which depict stories from Jain scriptures. At the top is a special glass chamber which multiplies the three statues of Lord Mahavir installed there, into an infinite number.
-------------------------------------------------------------------------------------
Krishnapura Chhatris: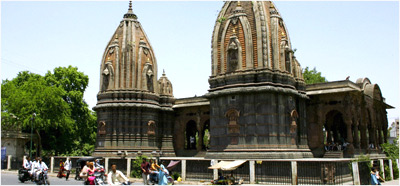 The Krishnapura Chhatris: These are exquisite cenotaphs of the three later Holkar rulers. These memorials in stone are gracefully poised on the banks of the Khan river with their pyramidal spires tapering into soaring kalashas. These are memorials built on the cremation spots of the Holkar rulers of Indore. Facing west is the cenotaph built over the ashes of another woman ruler of Malwa, Maharani Krishnabai. The other two Chhatris are of Tukoji Rao II and Shivaji Rao, father and son, and are linked by a common oblong prayer hall with ornately carved arches and pillars on a high platform along the garbha grihas containing life size statues of these rulers. A breathtaking sight at night when illuminated, the Chhatris glow etherally against the dark of the sky. An artificial lake is created in this stretch of the otherwise dry Khan river, complete with a fountain, well laid gardens on both banks and boating facility.
------------------------------------------------------------------------------------------------
Rajwada (Holkar Palace):
The Holkar Palace (Rajwada) is close to the Chhatris, in the main square in the heart of the city. It is a seven storied building (only facade remains) built over two centuries ago. This historic palace of the Holkars is built in a mixture of Maratha, Mughal and French style. The gopura-like monumental stone and wood structure, flanked by bastions and studded with balconies and windows, is a testimony of the past grandeur of the Holkars. Its lofty entrance archway above a huge wooden door encrusted with iron studs, leads into a vast courtyard enclosed by galleried rooms, and the arcaded Ganesh Hall where state and religious functions were once held. It is now used for art exhibitions and classical music concerts. The lower three floors are made of stone and the upper floors are made of wood, which made it very vulnurable to destruction by fire. Rajwada was burnt three times in its history, and the last one in 1984 was the most devastating. The charred rubble of the rear portion has now given way to a symmetrically laid out garden featuring fountains, an artificial waterfall and some superb pieces of eleventh century sculpture.
Bada Ganapati:
Bada Ganapati: Better known for its size than antiquity, this temple houses perhaps the largest Ganesh idol in the world, measuring 25 ft. from crown to foot. Created as a result of a dream to an Avantika (Ujjain) resident Shri Dadhich, it was built in 1875. The idol has a most interesting configuration of ingredients: bricks, lime stone, masala made of Gud, methi dana, soil collected from seven moksha puris: Ayodhya, Mathura, Maya, Kashi, Kanchi, Avantika, and Dwaraka, mud from stables of horse, elephant and cow, the powder of Pancharatna : heera, panna, moti, manek and pukhraj (diamond, emerald, pearl, ruby and topaz) and the holy water from all major places of pilgrimage. The metalic frame is of gold, silver, copper, brass and iron.
Khajrana:
Khajrana: Many citizens of Indore have a great faith in this Ganesh temple made by Ahilya Bai. They believe that praying here fulfils one's wishes. Nearby is the dargah of Nahar Sayed. It is believed that his headless body is buried here. This is an important pilgrimage place of Naita Muslims.
Geeta Bhawan:
Geeta Bhavan: Newly built, adorned with many statues of Gods of various religions. It is open to all, irrespective of caste, creed, religion etc., with provision for devouts to pray separately. Central hall is decorated with wall paintings from Puranas, Ramayan, Mahabharat, and is used for religious descourses - Pravachans. Book stores within the premises sell religious books.
Mahatma Gandhi Hall:
Mahatma Gandhi Hall: This is one of the prettiest buildings in Indore. Built in 1904 and originally named as King Edward Hall, was renamed as Mahatma Gandhi Hall in 1948. This Indo-gothic structure is made in seoni stone and its domes and steeples are a landmark of Indore city. It has a clock tower in front, due to which it is also known locally as Ghanta Ghar. The central hall has a capacity for 2000 people and is frequently the venue of book / painting exhibitions, sales, and fairs throughout the year.
Gopal Mandir :
Gopal mandir: This is a Krishna temple built by Krishna Bai Holkar in 1832. Situated on the right wing of the Rajwada, it has a big central hall with stupendous pillars bearing a massive roof which is elaborately decorated. Its systen of lighting in the form of huge glass chandeliers is eye catching.
Indore Museum:
Indore Museum : The Indore museum houses the finest collection of Parmar sculptures from Hinglajgarh. The Parmar style originated here and and is characterized by proportionated figures, carefully and ornately depicted in stone. The museum is also known for its collection of coins, arms and armours.
Nehru Park:
Nehru Park: This is the oldest and most centrally located park in Indore. Built by the Britons as Biscow Park, it was open to only British in the pre independence days. It was renamed as Nehru Park after independence. It has a variety of roses, library, swiming pool, children's hobby centre etc. It also operates miniature train to ride around the park. It also has battery operated cars.
Meghdoot Upavan:
Meghdoot Upavan: Newest and the largest of the gardens situated on the outskirts of the city, about four kilometers from Palasia. It has sprawling lawns, lighted fountains, dancing fountains, landscaped gardens. It has been extensively renovated in 2000-01. There is an amusement park Mangal Merry Landadjacent to it. Ice cream parlours, milk parlours, Chaat gali are on the outside.
Annapurna Mandir:
Annapurna Mandir: Inspired by the Meenakshi temple of Madurai, four life size elephants hold an ornately decorative gate in plaster. Inside the complex, apart from the main temple of Annapurna Devi are also temples of Shiva, Kal Bhairav, and Hanuman. There is also a pravachan hall. The outer wall of the main temple is decorated with colourful reliefs from mythological stories.
Kamala Nehru Park (Zoo):
Kamala Nehru Park (Zoo) : More popularly known as Chidiya Ghar, it combines the pleasure of a park and zoo on a modest, easy reachable area. Evening attractions include elephant rides, camel rides, pony rides, goat cart and buggy rides (mostly for kids). It has a restaurant and an ice cream parlour overlooking the Khan river. There is a children's playground at the far end of the park.
Gomat Giri:
Gomatgiri: In 1981, the M.P. government donated a hillock to the Jain Samaj, who constructed a 21 feet statue of Gomateshwar, a replica of the Bahubali statue of Shrawanbegola. Also built are 24 marble temples with shikars, for each Tirthankar. Gomatgiri is approached by a lovely picturesque drive 10 minutes from the city airport. It also has a guest house, a dharamshala and a restaurant.
Bijasen Tekri:
Bijasen Tekri: This hillock (tekri) has a small temple of Bijasen Mata, built in 1920. Mela is held here during Navaratri. This place is two minutes drive from the airport and about nine kms from the railway station. From this hill, one gets a magnificent view of the sunset and a breathtaking view of city at night. Perched on top of the hill was a guest house of the Holkars, now converted into a Border Security Force Arms Museum. Surrounding area is being developed into gardens with a small lake.
Deoguradia:
Deoguradia: In a small picturesque village of Deoguradia, 8 kms from Indore, on Nemawar road, stands the monolithic rock temple built in 7th century and redone in 18th century by Ahilya Bai Holkar. Also known as Garuda Tirth, it has a water outlet in the shape of of Gomukh from which water flows out almost as in Abhishek. The original Shivalinga is 12 ft under water in a sunken temple above which the present temple is constructed. On every Shivratri, a fair is held in honour of the diety - Shri Gutkeshwar Mahadeo.
For the garments, Chhappan Bazar and Sarafa are places to visit. Chhappan Bazar has many shops selling mouthwatering "Chaat" and related stuff. Sarafa, which as the name suggests, is a jewelry market during day time. But at night, when the jewelry shops close, the place is magically transformed into a large indian fast food centre selling rabri, rasmalai, kulfi, and an amazing array of vegetarian snack foods and namkeens. This narrow mile long road (close to Rajwada) is packed with people through most of the night and has a carnival atmosphere.
Nakhrali / Chokhi Dhani
This is a new concept in entertainment which is fast catching roots in Indore. These are sort of heritage villages with rustic Rajasthani atmosphere. There are camel / horse / goat / bullock rides, train ride, puppet show, magic show, monkey show, bioscope, etc for the kids in addition to boating facility, rajasthani dance cum entertainment show, a public dance hall (disko!) etc. There is also a spacious indian style dining hall where hot, tasty meals are served. The whole area is nicely landscaped and kept clean and well maintained. Open full day on week ends and in the evening till night on working days. There are currently two such villages, Nakhrali Dhani at Rau in the souther suburb and Chokkhi Dhani on Khandwa road in the eastern suburb. These provide a very good means of family outing in the evenings.